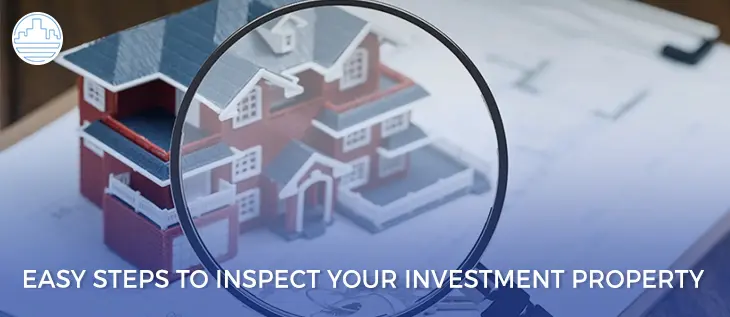 Maintaining your investment property's quality and value is an important part of property ownership. Regular inspection and upkeep of your rental property help assess the current condition of the property inside and out, ultimately maximizing the ROI.
Why Inspect Your Investment Property?
 Here are a few good reasons to conduct an inspection soon:
Preserve or increase the value of your property by proactively catching and resolving any issues.

Ensure residents comply with the lease terms (e.g., pets, smoking, parking).

Confirm no illegal activity is taking place.

Identify the need for any maintenance or repairs and save money by addressing the problem before it becomes any bigger. 
How To Do A Property Inspection to Maintain Your Apartment During Tenancy?
It's important to note how often a property manager can do an inspection and prepare a routine rental inspection checklist. We've listed a few points to consider while the property inspection manager inspects during the tenancy:
1. Communicate Inspection Timeline
Meticulous planning and execution can ensure a healthy resident-landlord relationship. Mention the inspection timelines in the rental agreement. Try to avoid surprises, and inform your residents a day or two prior, so the inspections don't cause any alarm. This helps make it a friendly and hassle-free process.
2. Plan A Layout for Inspection 
It's important to have an inspection plan when you inspect your property. Include a checklist in your quarterly or semi-annual inspection plan. Here are a few important things to remember: 
Prepare a Walk-through Checklist:

 The

HVAC system, windows, fridge, dishwasher, oven, water heater, washer/dryer are some important appliances in any unit. Regular maintenance of these appliances is important for their longevity. Apart from these, here's a routine rental checklist:
    ✓ Furnace filters & Fire extinguishers
    ✓ Smoke alarm batteries
    ✓ Bugs/pests
    ✓ Water leakage (sink, toilet, faucet, roof)
     ✓ Damage (walls, ceiling, floor)
    ✓ Running toilets
     ✓ Window/door seals
     ✓ Overall cleanliness/condition of the property
Expecting regular inspections can improve your resident's experience, ensuring they always live in a place where they are safe, comfortable, and have access to all amenities promised. It can also help encourage residents to care for their unit as if it were their own, saving you in repairs down the road. 
Inspect for Damage & Illegal Possessions:

While it's uncommon, you must inspect the units for damage, things that go against your rental contract, or illegal possessions.

Check for signs of unlawful swimming pools or hot tubs (Yes, this happens!

Learn more about signs to look out for

at your property so you can take action).

Paint, potted plants, and candles are just a few ways renters can accidentally damage your property. Encourage renters to swap these with alternate

decorative items

. This saves you time and money on costly repairs.

 

Ensure your Property is Safety Compliant:

It's also important as a landlord to understand your responsibility and ensure your property is compliant with safety regulations (

Learn more about fire extinguishers

at your property). This will instill a sense of security and trust in the resident's mind, resulting in a healthy landlord-resident relationship.
3. Don't let Residents defy the Rental Agreement Rules
We always suggest our clients to have a comprehensive, legally binding rental agreement. Enforce all the clauses that you want your residents to follow. At the time of inspection, take note of whether the residents comply with the rental agreement. Notice things such as the number of pets, the number of occupants, smoking or abnormal smells, etc. You can address these issues after the inspection by notifying the residents in writing. Make sure the consequences of non-compliance are clear in your rental agreement and use them if necessary (provide first and second notices, fines, etc. as appropriate). This will ensure the safety of your property and its residents.
Checklist for Rental Inspection
For Winter:
Check window/door seals to prevent drafts

Take down AC units 

Check smoke alarms 

Prevent chilly drafts, holiday fires, and frozen pipes 

Cover exposed pipes

Clean/replace furnace filters

Sidewalk shovel and salt if you are in a snowy/icy climate
For Summer: 
Check sidewalks, ceilings, roofs, walls, and gutters for any damage from rain or other elements

Reinstall AC units in windows or designated areas.

Clean/replace AC filters.

Check seals in windows and doors.
Post-Inspection
Inspecting the property during the tenancy can benefit the property owner, but only if you take action on any post-inspection items that should be addressed. Make sure you:
Take maintenance requests seriously:

If your resident has pointed out any issues that require your attention or if you noticed any maintenance issues during inspection, take action to rectify them immediately.

Provide a small cleaning kit:

  All-purpose cleaners, bleach, and sponges are few things you can give to your residents. Include your business card and instructions on how to report any maintenance concerns (should they call, email, submit a form online?) This is a great way to establish a good relationship with your residents, encourage them to keep their units clean, and empower them to report issues before they escalate. 
Find a Property Manager Committed to Regular Inspections and Maintenance
Want to access the condition of your rental property? Beach Front Property Management experts can help you manage all sorts of inspections: move-in, move-out, and scheduled inspections during tenancy. Connect with us and learn what our experienced professionals can do for you.
Check out our related article:
Understanding SB 326: California's Balcony Bill and Inspection Laws
Property owners, do you want more freedom and less stress?
Learn more about how we can help.