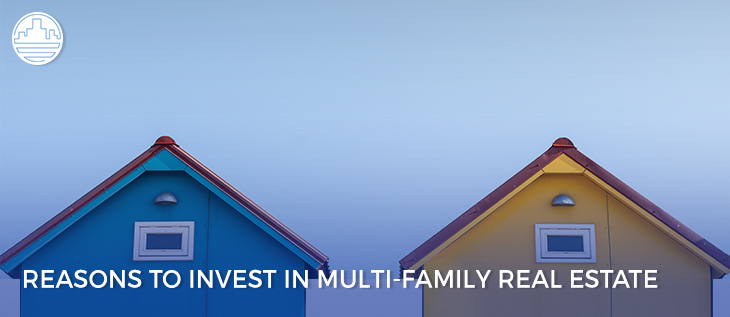 Single-family real estate is a great place to start out your investment bucket, definitely, but for an investment portfolio that works for you, it's a great idea to look at multi-family investing, for good reason too! 
Banks and financial institutions are more comfortable approving loans for a multi-unit property. Meaning, you could find it relatively easy to secure financing, as such these properties are generally perceived to be low–risk investments. 

From an investor standpoint, multi-family units offer a better return, as they are also known to deliver a steady ROI with multiple streams of revenue and low vacancy rates

.
Here's all the information you need to add multi-family properties to your portfolio. At Beach Front Property Management, our goal is to stabilize your returns, while reducing vacancy rates, especially while handling multi-family units. 
What are Multi-Family Properties?
A multi-family unit refers to any property that has more than one residential unit. These can be by way of a duplex or apartment complexes, where a large number of families can live together.
Advantages of Investing in Multi-Family Real Estate
As an investor, the big advantages that accrue in investing in multi-family properties include:
1. Cash Flow Potential
A primary reason to invest in multi-family properties is, of course, the multiple streams of revenue that it generates. Especially if you are a "buy and hold" investor you are likely to gain from the strong monthly returns. Alternatively, if you purchase a multi-family property and undertake some "value-add" renovation and modernization, you could not only optimize your income but also increase the value of the property. At a higher value, you also have the option of refinancing the property.
2. Scaling Up
It stands to reason that the recurring cash flows could, in turn, be used to invest in other projects and scale your real estate portfolio. Also, the appreciation that the property witnesses over a period of time can help leverage your equity to invest in other properties. 
3. Reduced Risk
Unlike a single-family unit that relies on one tenant for your income, in a multi-family setup, you are spreading out your risk. Should a vacancy happen, it only impacts a part of your income. 
4. Tax Benefits
A big benefit is the tax advantage that accrues on two accounts. You tend to gain from the high annual deduction on account of mortgage interest, and also the ability to offset rental income against depreciation. 
5. Operational Efficiencies
A number of operational efficiencies also accrue with multi-family properties. These include lower maintenance costs per-unit with multiple units sharing common systems, not to mention the fact that management of multi-family properties isn't as time-intensive as that of single-family units, especially if the individual properties are scattered in different locations. Speaking of maintenance of multi-family units, a good rule of thumb is to budget for 10-15% of the net operating income (NOI) for a small multi-family building, and between 5-10% of NOI for larger buildings with 50+ units as maintenance cost.
How to Find the Right Multi-Family Property
Here are a few aspects to consider in making your investment decision
Financial Viability
The first thing to determine is the financial viability of the property. This involves some number crunching on the following metrics:
Rental Income and expenses

Cash-on-cash return

Occupancy/Vacancy Rate

Cap Rate
The cap rate will help you determine how soon you are likely to get a return on your investment. The cap rate is calculated by dividing your annual net operating income by the market value of the property. Ideally, the cap rate should range in the 5-10% bracket. If it is lower than that range, you may need to rethink the viability of your investment. A higher cap rate, on the other hand, signifies that it is a risky investment and that you need to closely look at your appetite for risk.
Location
A big part of the potential rental income has to do with the location of the property. Choosing the right city would mean taking into account parameters such as:
Population 

State of the job market

Prevailing property taxes and laws

The crime rate, and more
When selecting a city, you need to look for a high-growth, well-maintained neighborhood. 
The Seller
It will also help to see who the seller is. Between a bank-owned property and a property being sold by an individual, there could be different scopes of negotiation and hence cost-saving capabilities.
Pro tip: While looking for multi-family properties, remember to look for both on-market and off-market properties.  While on-market properties will typically be available through online real estate platforms, some of the best deals could also be found off-market. Realtors with a large network could be a great source of identifying lucrative off-market multi-family properties. Targeted direct solicitations to property owners could also turn out to be fruitful.
Financing a Multi-Family Property
If you are looking at a bank loan, it will help to remember that typically a bank would offer a 70-75% loan-to-value ratio. For an apartment costing two billion dollars, for example, you would need to put down a down payment of  $500,000.  Unless of course, if you plan to owner-occupy the property, in which case, you could look at a lower down payment and lower interest rates as well. 
Another way to lower the monthly mortgage of multi-family property investments, is to look at an adjustable-rate-mortgage plan that allows you to avail of a lower interest rate for a fixed period of time, post which the market rate of interest will prevail. Similarly, a "Libor cap" can cap the interest rate at a certain level or fix your floating-rate loan.  Hedging against interest rate fluctuations can also be done, by keeping the DSCR or the Debt Service Coverage Ratio at 1.25 or above. Simply put, DSCR is the ratio of the Net Operating Income to its annual mortgage debt service. DSCR allows the loan amount to be capped when the interest rate increases and increasing the loan amount when the interest rate is low. 
Need for a Property Manager for your Multi-Family Property
Managing a multi-family property comes with a lot of accountability. Especially if you have other full-time responsibilities, it is imperative to have a property manager for your multi-family investing plans. Some of the other aspects to consider in making the decision of appointing a property manager include:
The number of units to be managed

Whether or not you have a wide network of contractors available to service the various issues that may arise.

Do you live close to or far away from the property to be managed?

What kind of cash flows does the property generate?
With a property manager in place, you can save a lot of time and effort, and rest assured that your property is fully compliant as well as profitable. 
Summing This Up 
Multi-family investing is a great way to generate cash flow as also a means to diversify one's investment portfolio. That said, a lot of due diligence needs to go into multi-family real estate investing. The math done right can, in turn, give you handsome returns and can become a great source of passive income. Armed with the right data you will know exactly which deal to crack and secure a great multi-family investing opportunity.