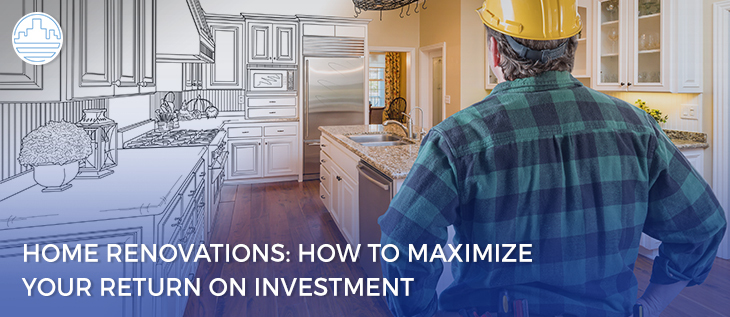 If you own investment properties, renovations will become part of the equation at some point. The important part is to figure out where to put your money, or in other words how to renovate for profit. The most valuable renovations are those that can increase your units' worth in relation to the amount you spend on them. Rental property ROI depends upon a host of factors such as location, building's curb appeal and more, however, property owners across the US report rent increases of 10-30% on expenditures between $2,500-$8,000 on renovation.

While the cost to completely renovate an apartment building may cause you to break the bank, here are the top 5 improvements to focus on that can give you the biggest bang for your buck:
1. Flooring
For anyone looking at leasing a rental unit, great looking floors offer a definite appeal. According to Capreit, a national multifamily real estate company, new flooring can earn $50 to $100 more per month in rent depending on the market and size of the unit. While it is tempting to place the cheapest carpet possible as a way to reduce costs, it does tend to impact your rental and thereby your property investment ROI. It is prudent to conduct some research on the flooring you want to upgrade. Of course, there are a range of options including, but not limited to, hardwood, tile, vinyl, laminate concrete and more. Of these, laminate tends to work well, as it offers the look of wood at a much lower cost. You could also look at plank vinyl for the living area and carpets for the bedrooms.
2. Interior Lighting
When you want to renovate for profit, the one thing you cannot afford to miss is interior lighting. Not only does it make a great first impression on a potential tenant, it is also fairly inexpensive. To keep costs under control you can work with existing wiring and simply update the fixtures that you have. In fact, you could actually reduce the electricity bill by using LED fixtures. Interior lighting is sure to feature as one of the best home improvements to increase value. 
3. Painting
A freshly painted space always looks more attractive. In painting the unit, remember to go with lighter hues, as they tend to make the space look bigger. If you hire a professional crew, painting a 1,500 square foot apartment could cost you between $2,700-$3,200 including labor and materials. The rental property ROI, however, is likely to increase far beyond your investment.
4. Bathroom Updating
Updating a bathroom typically has a high initial investment but can deliver an ROI ranging from 70-80%. A full remodel of a small bathroom can run as high as $10,000. However, if the bathroom only requires a simple update, the costs are significantly lower, and the results will be well worth the investment. You could look at the following:
Replace the showerhead

Resurface the bathtub

Clean tile grout

Change out the vanity and faucet

Replace or add shelving

Add lighting
It will also be prudent to remodel your bathroom while also keeping accessibility in mind. We live in an ageing society and accessibility modifications are especially valued by renters as they grow older. Some of the aspects to consider, include:
Widening doorways for wheelchairs

Lowering light switches

Having support bars near the toilet
5. Kitchen/Appliance Updating
Interestingly, when it comes to the kitchen, you don't have to spend a lot to get large returns. Some of the most valuable improvements in the kitchen include:
Modernizing cabinets

Installing new countertops

Updating the sink and faucet

Updating the paint and flooring
Replacing appliances can be expensive, but not if you check out big box stores that offer discounts on open-box models. If the unit does not have a washer and dryer but features a dishwasher, you could buy an all-in-one unit that fits neatly into the dishwasher space. For example, an LG 27" Sidekick model is available for under $400. Offering a washer/dryer combo in a building without laundry facilities will be a major attraction to tenants.
Focus on these 5 renovations and you could renovate for profit. Here's to a high ROI for your rental property!