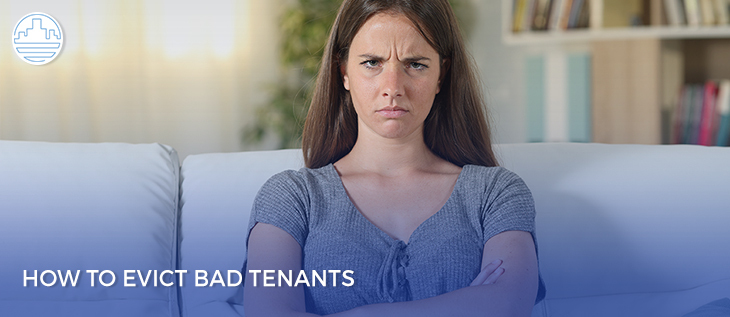 Being stuck with a terrible tenant can be nothing short of a nightmare. You could be potentially dealing with unpaid rent, damage to property, and more.
Do not perform "do-it-yourself" evictions of dead-beat, non-rent paying tenants – call a lawyer. In fact, call a lawyer before you even choose a tenant
How to Evict a Tenant the Right Way
Keep in mind that self-help evictions are a strict no-no.  It may be tempting to change the locks, turn off the utilities or physically block the tenant's access to the property, but these must be avoided at any cost. Every state has its own set of laws related to evicting a tenant and a seemingly small error on your part can lead to strong legal implications including delaying the process or worse still, you having to face legal consequences.
What you need to do instead is to consult a lawyer, who will then initiate the due legal process. This includes:
1. Sending a Notice to the Tenant
The answer to how to start the eviction process begins with a notice. Before a lawsuit can begin, it is imperative to serve a written notice to the tenant.  For unpaid rent, this will mean a pay or quit notice. A notice will work similarly for other violations.
2. Lawsuit
If the tenant fails to correct the violations, the next step is to file a lawsuit. You need to ensure that the summons for the same, are handed over to the tenant directly.
3. Trial
If the tenant responds to the summons within the stipulated period, a request to set the case for trial is to be made. Ensure that all your paperwork is in order. Once the judge rules in favor of the landlord, a Judgment of Possession is passed. The landlord then fills out a Writ of Execution, which is served to the tenant, which allows the tenant five days to move out.
Overall it is imperative that you follow the due process of law in the tenant eviction process. Ensuring that all the paperwork is in order can go a long way in getting you the due relief. On the other hand, faulty paperwork could lead to you having to begin the process all over again. Proactive investment in a lawyer, therefore, is non-negotiable as it can not only expedite the process but also ensure that you incur minimum damages.
Safeguarding yourself from Terrible Tenants
Well, as they say, prevention is certainly better than cure. It is, therefore, imperative that you take every measure possible in ensuring that you do not land up with bad tenants, in the first place. This would involve aggressive tenant screening including but not limited to:
Criminal checks

Income verification

Character references

Credit reports

Rental history verification, and more.
This is not to say that by doing this, there is no way you can land up in a situation where you have to seek answers to how to evict a tenant, but you can certainly reduce the possibility.
Importantly, what you also require is a legally vetted lease agreement that outlines the rules and provisions for the property. With a lease agreement in place, in case of a breach in the terms of the agreement, the landlord has the legal basis to call for an eviction.
Here's hoping you don't reach a stage where you need to seek answers to how to evict a tenant. In the unfortunate event that you do, the above tips will come in handy!