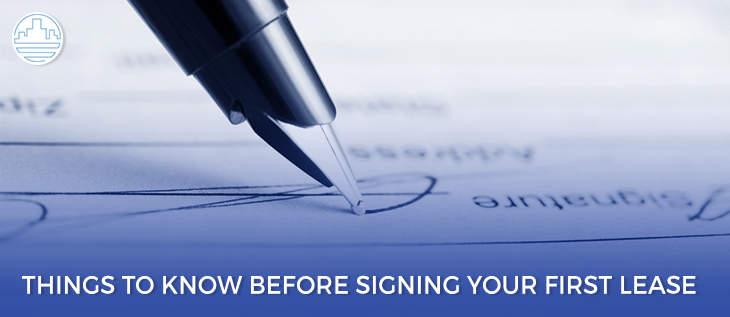 Moving into your first apartment is a rite of passage. It can be both exciting and overwhelming. For most of us, it coincides with a major, life-changing event like moving out, graduating, starting your first job, etc. While you might be busy planning your move, there are a few crucial things to consider before signing the first lease. Let's take a look at a few of them.
Consider These Points Before Finalizing Your Apartment Lease
1. Organize Your Wants & Needs
Think you've found the perfect apartment? Re-think! First make a list of what you need in an apartment, like a location close to work or school, number of bedrooms, parking or nearby public transportation. Then make a list of all the amenities you want, like an on-site gym or swimming pool, in-building laundry room, etc. If you have a pet, don't forget to check specific rules on dog size & breed. This will help you choose an apartment with all of your needs and a couple of your wants. You can look out for various factors before signing, like:
Affordable Rent:

Review your finances well! If you can't afford a luxurious loft, then you can restart your apartment search and look at places within your budget. You can also look for a roommate to split the costs. Before you go that route, interview your potential roommates, even if they're friends.

Proximity:

Living in the heart of downtown's trendiest area offers fantastic possibilities, but it also comes at a cost. If you can't afford your ideal location, consider expanding your search to nearby areas. 

Seasonality:

  If you can wait, consider signing the first lease for your apartment during winter. During this time, fewer people are moving and places tend to have more availability and more flexibility when negotiating with the landlord or manager. 
2. Do a Walk-Through
Ensure that you do a walk-through with the landlord, in-person or virtually. Take note of any pre-existing issues — a broken knob on the cupboard scratches in the paint, or maybe a dent in the wall, etc. Make a note of these things, take photos, and make sure the landlord is aware. It's important to note everything to get your security deposit back when you decide to move out.
3. Do You Need a Co-signer?
You might need a co-signer if you don't have the credit or if your income isn't enough for the rent. A co-signer is like a guarantor responsible for the lease if you don't abide by it, but they don't live with you. Consider asking someone in your family to be a co-signer. If you can't get a co-signer, you can decide to go with a guarantor service; the cost is usually between 4% to 10% of the annual rental rate.
4. Sign for Renter's Insurance
Don't scroll down; read this! We know renter's insurance isn't the most exciting topic to think about while signing your first lease. But for your own protection and peace of mind, you should seriously consider taking out a renter's insurance policy. This can help recover or replace your personal belongings in case of a natural disaster or other unforeseen events. In fact, some property owners will even require you to show proof of renter's insurance. If you're not sure where to start, reach out to your auto insurance provider and see if they can help you with a renter's policy too. Or look online for affordable options. 
5. Ask Your Questions
Make sure you fully understand the lease agreement and any other documents before you sign them. Ask lots of questions…as many as you need. Not sure what to ask? Here are some good ones to start with:
Make sure the lease outlines everything including: when and how should you pay the rent? Can you renovate, paint, or make other changes? Are plants allowed on balconies? Etc. Be sure you know what you can and can't do to avoid damaging the property and losing your deposit. 

What will be the outcomes if you break the lease? How much notice do you need to give before moving out?

Can you sublet your apartment or have roommates?

Are there any extra fees you might incur after signing the lease?

Are utilities included in the rent? Do you need to set up your own utility accounts for electric, gas, water, trash, internet, cable, etc.? What will be the approximate costs?

Is parking included in the rent or is there an extra fee? Do you need a permit? Where can you safely and legally park? Where can your guest's park?

Are there shared amenities like laundry, storage, gym, pool, etc.? How do you access them? Is a pass needed and are there extra fees?

Where and how will you receive mail? Do you need a mail key? 
Things You'll Need to Sign a Lease
Here's what you should expect to bring with you to sign your lease:
Proof of employment and your income

Photo ID

Vehicle's registration information

Proof of renters insurance if required
You will most likely be required to pay your first month's rent when you sign your lease. You'll also be asked to pay the security deposit, move-in fees, and extra utility charges. Carry your credit card, check or cash on the day of your signing. 
Connect with Beach Front Property Management
Want to make sure you're signing a legit lease? Make sure you're working with a professional property management company or an experienced landlord. Look for properties managed by Beach Front Property Management in your area. We believe in simplifying the process so that renters and owners are treated fairly and properties are well maintained. 
Property owners, do you want more freedom and less stress?
Learn more about how we can help.