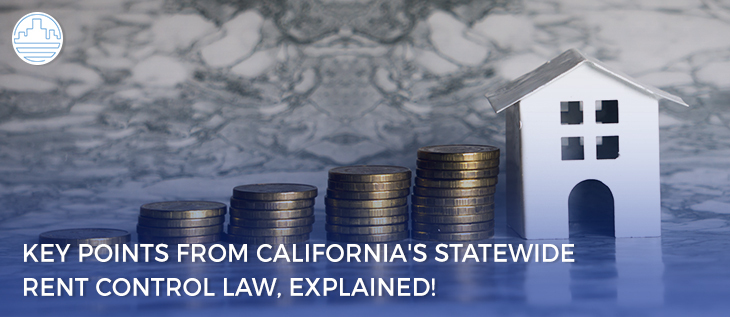 On January 1, 2020, the California Rent Control Law 2020 came to effect. While LA has had a rent control law in place for over 40 years, it's for the first time that the state of California has placed limits on rent hikes. As per the new law, residential landlords cannot raise the rent by over 5%, plus the local rate of inflation in a year. Which, in turn, is tied to the consumer price index.
Here are a few other key points from the Assembly Bill 1482 (AB 1482) worth noting. 
What Led to the Rent Control Assembly Bill 1482? 
Now referred to as the Tenant Protection Act of 2019, the law has been designed to ensure there aren't any "egregious" rent hikes across California. 
This law was brought into force as the State of California has had a history of contending with a dual issue of a mounting homeless population and a housing shortage. In fact, a 2016 McKinsey Global Institute Report ranked California at 49 out of a total of 50 States, when it came to per capita housing construction. 2018 California Department of Housing and Community Development Report also stated that production averaged less than 80,000 new homes each year over the last 10 years, and the current production falls far below the projected need of 180,000 new homes annually.
In the light of all this data, the bill's author, Assembly member, David Chiu has been quoted as saying that "Millions of California renters are just one rent increase or eviction away from experiencing homelessness."
What Really Does the California Statewide Rent Control Law Mean for Landlords?
Essentially, if you reside in a city where a local rent control law is not already in place and your rental is at least 15 years old, you will come under the ambit of the law. Your annual rental increase will thus be capped at 5% plus inflation, not exceeding a total of 10%. 
Some of the exemptions to the law, however, include:
Buildings constructed in the last 15 years

Condos and single-family homes, unless owned by a corporation or real estate investment trust

Duplexes where the owner lives in one of the units
To help tenants whose landlords might have increased the rent in anticipation of the Assembly Bill 1482, the law also states that it will be retroactive to March 15, 2019. 

What Else Does the California Rent Control Bill Entail?
Other than the cap on the rent, the law has another important provision. This has to do with the tenant's failure to pay rent. In such cases, the landlord will be required to show "just cause" before evicting the tenant. Additionally, for tenants who have lived at the property for over a year, the landlord is further required to give the tenant an opportunity to "cure the violation".
How Can Landlords Prepare for Rent Control?
While the California Assembly Bill 1482 is a reality, the fact is it could lead to landlords facing a number of issues. Most importantly, it can impact the owner's ability to make a reasonable return on their investment.  
In such a scenario, it is absolutely imperative for landlords to switch to a Ratio Utility Billing System. Popularly known as RUBS, it is a system that enables property owners to proportionately share utility costs in a fair and reasonable manner with the people who use those services—the residents. This is relevant because rent control does not limit utility price increases. 
Clearly, as a property owner, you need to look at maximizing your returns. While California Rent Control Law doesn't allow you to increase your revenue beyond a stated range, you definitely need to look at optimizing your costs; a task that RUBS allows you to do.