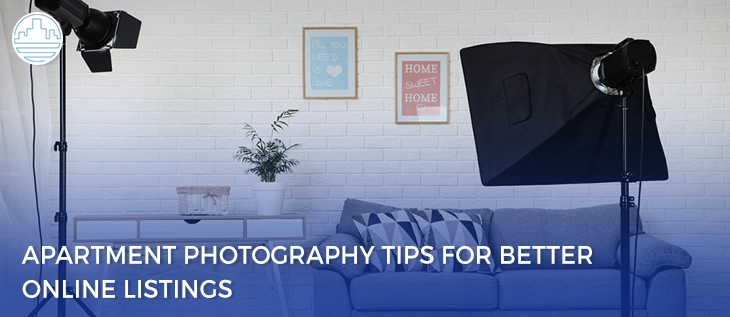 According to a study conducted by the National Association of Realtors 2017, properties with professional pictures get more interest, making them more desirable. It might seem obvious, but professional real estate photography is integral to helping your property stand out in the highly competitive rental market. 
Top 5 Reasons to use Professional Photography For Real Estate 
A picture is worth a thousand words and it's no secret that quality photos help attract quality renters. So, if you are on the lookout for a resident, here are a few reasons why you might need to rethink the photos you are using:
Good photos help increase your listing views. According to socialmediatoday.com, over 90% of potential residents ignore listings without photos.

Apartment listings with high-quality professional photos rent out 30% faster than those that showcase no or low-quality images. 

Residents want a feel of how the property looks. So, they usually browse through property photos and virtual tours before connecting with the owner.

Photos also help increase your online presence, allowing you to reach a larger audience. Your images are not limited to property listings but can also be used on social media for better engagement.

If you invest in professional photos once for your property listing, you can reuse them year after year. 
How to Take the Best Photographs for Your Real Estate Listing
In our experience, we recommend that you have at least five photos for your property listing, and you can add more later. Here are our recommendations on the equipment you need, techniques to follow, and a few dos and don'ts when planning your property photoshoot.
1. Choosing the Right Equipment & Gear
You always have the option to hire a professional photographer. Make sure to find someone with experience shooting real estate and they fit in your budget. If you plan to do it yourself, here are a few pointers.
Camera and Lens: If you happen to own a DSLR or mirrorless camera, try experimenting with wide-angle lenses with a focal range of 10-24mm to get the best results. New generation smartphone cameras are also good enough to take a few quality photos. Make sure that you use the right angle and optimize lighting. 
Lighting: You can either use natural lighting to your advantage or use studio lighting to make sure the space is well lit. If studio lighting is beyond your budget for staging good shots of the interiors, try experimenting with natural light. You can also consider using an external flash for your camera. 
Accessories: The camera should be placed at the height of around 4-5 feet and ideally on a tripod. Monopods and tripods are both reliable and inexpensive. They ensure stability, keeping your photos straight and consistent.
2. Stage the Rental Unit 
Now that you've geared up, stage the apartment before you plan the shoot. Make it look appealing and shoot a series of photos with varying exposures. You can add these simple details to give a cohesive look:
Place furniture to add life or rearrange existing furniture to best highlight the space

Store personal items and clutter out of sight

Hang curtains in a contrasting color

Put out a few generic accessories like a laptop, throw pillows or blanket, a decorative tray, etc.

Add lighting if the space looks small or dark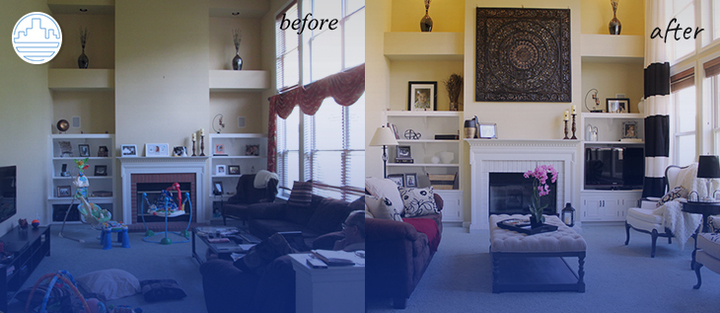 Make sure to cover every part of your rental property. Take at least one picture of the main living area, all bedrooms, bathrooms, kitchen, and laundry room. Also, take images of the shared spaces such as the entryway, pool, lobby, laundry, and patio area.
3. Set the Perspective
Setting the right perspective for perfect execution and high-resolution images is important. The right camera height, angle, and time of the shoot affect the photo quality.

Plan the time of shoot:

Taking photos during the day with sunlight pouring into the room saves you a lot of time & money on lighting. You can also photograph in the evening, but the output will not be as good as in the day unless you use artificial lighting arrangements. Make sure to adjust the lighting and avoid darkness, as it can make your space look smaller. Twilight photography in real estate is a new trend in the industry. Pictures taken at twilight are striking and appealing for a real estate marketing campaign. But yes, taking this shot requires perfection and the eyes of a professional photographer!

Real Estate photography angles: 

Consider standing at the widest vantage point of the apartment, which is usually the corner of the room. Try to include two walls and a bit of ceiling and floor in each image. Having three walls in a shot creates a closed-in effect, making the room look smaller. To avoid curves and keep vertical lines vertical, you can opt for cameras with a built-in alignment function. It helps, but you might still require fine-tuning of the vertices while editing. This can be done with Adobe Camera Raw (ACR) or Adobe Lightroom.

Camera Height:

Try to place the camera lower than the average human height. The rule of thumb is to position the camera 12-16 inches above the highest surface. This is important because if the perspective is not set right, a table will look like a single wood plank. So it's essential to keep the correct height adjustment in mind for a property shoot.

Choose Appropriate Interior & Exterior Lighting:

When you do photography for real estate, make sure that all photos share the same color temperatures and color grade. The only exclusion applies to the bathroom because it could be very dark to shoot without artificial lighting. For exterior shots, it is recommended to make the outside look brighter than the inside. But if the view outside doesn't add value to your property, it's safe to overexpose.
Pro-Tip: Point the flash right at the windows to avoid any light bleeding over the frame edges.
Some Dos & Don'ts for a Rental Listing
Once you've invested the time in taking the photos, be sure to finalize the high-quality images. One bad photograph can dampen the appeal of the property, so choose them wisely. Here's a list of some do's and don'ts:
Dos
Clear the clutter, dirt & disorganization

Take advantage of natural light

Show a realistic perspective

Brighten up & add a pop-up color to the apartment

Avoid glares and mirror reflections.
Don'ts
Never upload dark or blurry photos.

Uncropped images with too much blank space are a big NO.

Never upload tilted pictures.

Don't forget the exterior images if they add value. 
How Much do Property Photographers charge?
Real estate photography shoots from a professional photographer can cost anywhere between $120 and $330 and up per shoot. But if you are on a low budget, some new photographers are ready to test the waters for less. But a less experienced photographer means you have to manage more of the shoot and your images may not be at the level you were hoping for. 
Note: Professional real estate photographer pictures come with their benefits:
Perfect shots that a layman couldn't deliver.

Ability to create the illusion of space, capturing the flow from one room to the next.

Most importantly, they know exactly what should be in the frame and what should not. 
Professional real estate photography is like dressing up the apartment building or a unit for an interview, improving the chances of renting your apartments at a comparatively higher price. It also helps build an everlasting first impression in the residents' minds before stepping onto the actual property.
Hire an Expert With Beach Front Property Management
We at Beach Front work closely with the best professional real estate photographers that have an eye for detailed angles, and beautiful lighting and provide high-quality photos to capture the best features of your property. If you are interested in uniquely showcasing your property to open your renting prospects, maximizing your ROI, connect with us now!  
Property owners, do you want more freedom and less stress?
Learn more about how we can help.