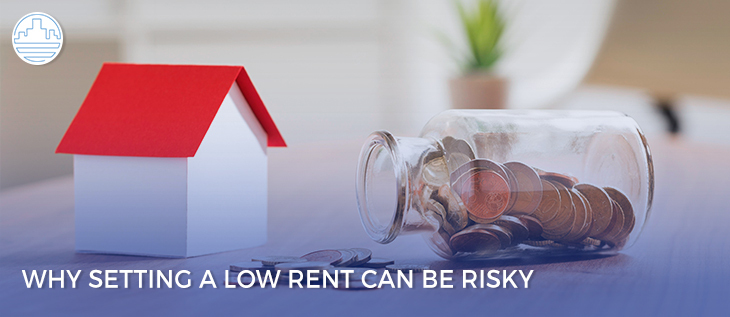 When it comes to setting rental prices, property investors typically deal with two conflicting forces – maximizing rent and minimizing turn over. 
Especially if the property is self-managed, the fear of vacancy can often lead to setting the rent below market rates. This, in turn, leads to a vicious cycle that eventually impacts the overall returns of your property investment. 
Why you Shouldn't Risk Low Rent Rates
Here are some of the risk factors to consider before setting a low rent for your property investment:
1. Low ROI
First up, setting the rent too low over a period of time significantly impacts your ROI. Real estate investing demands that the rent is set at an optimal level. Besides offering you a fair return, it also allows you to take care of the upkeep of the property while factoring in any likely vacancies.
2. The Formula for a Run-Down Property
Sometimes tenants do not ask for repairs and maintenance, and this indirectly forces the owner to set the rent a little too low as it seems like a win-win. But there is more to this, so let's lay the facts up straight. 
Even in a scenario where the tenants take ownership of repairs and maintenance, the economics do not quite add up. On the contrary, a fair rent may cover the cost of any repairs that may be needed. This works well both for the tenant and for the property. In fact, for the very same reason, it does not work well for you to keep the rent low and give the responsibility of maintenance to the tenant. This leads to a case where tenants don't report and address maintenance issues on time – A sure-shot formula for a run-down property in a couple of years. 
It stands to reason that you will be far more invested in the upkeep of the property than the tenant will ever be. When tenants take over repairs and maintenance, the quality also comes into question. Apart from that, this also sets the stage for potential misunderstandings and disagreements when it comes to the quality of repairs. Ultimately culminating in unnecessary disputes.
3. Creating a Trail of Low Renters
With lower than market rents, your ability to upkeep the property is significantly compromised! In turn, this means that you will further attract lower rents for a run-down property. What you have is a vicious cycle that will lead you to question your real estate investing decision. And, that's far from your objective. 
4. Long-Term Issues for Tenants
While low rents are an obvious problem for landlords, they do not bode too well for tenants as well in the long run. Whenever they do vacate your property, they will have significant issues looking for a property for rent at the levels they have been used to. While this isn't something that directly affects you, think of it as food for thought! 
Property Management Done Right
At Beach Front Property Management, we pay close attention to the prevailing market rents and price your unit optimally. While this could mean intermittent vacancies, it will still work far better in the long run. Overall, it will ensure that your property investment brings fair returns, while also helping you with upkeep and maintenance. Even if you are looking at holiday homes, seasonal rental income is designed to support you comfortably through the rest of the year! So, go ahead and talk to an expert before setting the bar too low.