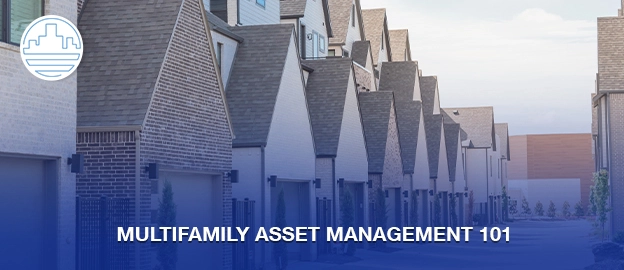 Multifamily real estate can be incredibly lucrative if you are able to make the right decisions at the right time. The responsibility of maintaining and managing multifamily properties while ensuring the performance and profitability of the assets may require the help of an asset manager or a property management company for assistance in managing complexes. The multifamily asset managers take ownership of an investment performance post-acquisition, control costs, and creatively find ways to add incremental value over the life of an investment.
Let's understand the basic difference between real estate single-family and multifamily investments. 
Differences Between Single-Family and Multifamily Investments
| | |
| --- | --- |
| Single-family investment | Multifamily investment |
|  Requires you to maintain a single space for rent. |  Requires you to maintain multiple units |
|  Single-family homes may appreciate and depreciate   with the economy, increasing your investment risk. |  Multifamily properties may appreciate in value, which means your investment risk could be low. |
|  Requires significantly less property management   than multifamily. |  Property management requirements increase   proportionally with the number of units. |
|  A single-family home provides only one revenue   stream. |  Multiple units result in various revenue streams and   higher income potential. |
|  Cater to long-term renters. |  Can cater to short-term or long-term renters. |
What is Real Estate Asset Management?
Multifamily Asset management in real estate is meant to cultivate market value, so ownership of multifamily properties can increase its returns. An asset manager manages multifamily properties on behalf of an investor, making important investment decisions that will help the client's portfolio grow.
In other words, real estate asset management is the process of maximizing a multifamily property's value and ROI. But how exactly does that happen? 
Let's read about the four areas of focus in real estate asset management:
Finding the Highest Revenue Sources:

Find a property that's value is likely to increase significantly. But ensure that it gives consistent profit rather than a large lump sum profit. Good real estate investors seek out properties that provide the highest possible stream of revenue. The best way to do this is by investing in rental properties.

Reducing Expenditures:

The operational costs, maintenance, closing costs, and taxes cost a fortune to a property owner. But there are a variety of ways to reduce the cost of investment. For example, you can choose the right contractors for fix-and-flips or secure loans with good rates.

Risk Management: Every investment comes with its share of risks.

But some investment properties are riskier compared to others. In case an investment fails, real estate asset management comes as a rescue. An asset manager helps to prepare a contingency plan and mitigate the risk. 

Portfolio Building:

Real estate asset management is all about expanding and diversifying your real estate investment portfolio, but strategically. Because the more you invest, the more you'll gain profit.
What Does Asset Manager Do?
Real estate asset managers act as fiduciaries for investors and manages real estate properties for a client. They are like a caption of any real estate investment company, who is responsible for identifying real estate marketing trends, and leveraging those arbitrages while there is money to be made. They are required to keep an eye on the property to optimize its value and return on investment (ROI). 
Clients who may need the services of a real estate asset manager can vary from:
Corporations

Individuals

Private ventures

Governments

Vacation rentals 
Roles & Responsibilities of an Asset Manager
A multifamily asset manager's responsibility includes but is not limited to the following tasks:
Conduct Market Research

Develop a Budget

Make Financial Projections

Develop/Revise a Financial Strategy Cash Flow Management

Find Lenders

Asset Marketing

Assist in Property Transactions

Negotiate Property Agreements and Leases

Improve Property Values
What Is Asset Management, and how is it different from Property Management?
Asset management is not just managing the multifamily property but also managing the investor's money and returns. As an asset manager, you're responsible for increasing the profitability of the investment. 
In a nutshell, an asset manager works on long-term strategies to maximize property value and ROI, whereas a property manager deals with day-to-day matters such as finding good tenants, collecting rent, overseeing renovations, paying vendors, financial reporting, and executing leases. 
Why Choose BFPM? 
A good investment deal equates to a good property that generates profitable results. So if you're looking to invest in multifamily properties to build your own portfolio or just considering investing passively in your first multifamily deal, Beach Front managers can help walk you step-by-step to increase the value of your multifamily properties.
Property owners, do you want more freedom and less stress?
Learn more about how we can help.