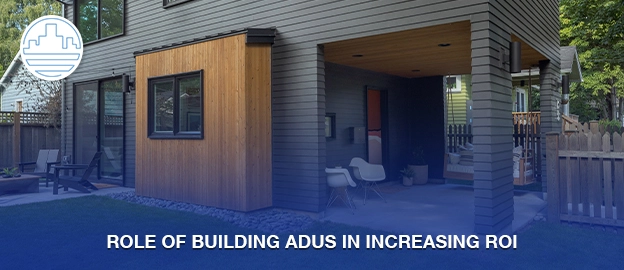 Adding an Accessory Dwelling Unit (ADU) to your investment property can help boost the value of your property, but amid the plethora of options and intricacies, one concern that frequently arises in the mind of the property owner is how much value an ADU adds to your home. 
Most property owners build an ADU to increase the value of their property. Building an ADU on the property is potentially one of the wisest investments an owner can make. The amount of equity an ADU adds to a property varies depending on several factors such as location, size, and quality of construction. On average, an ADU can add anywhere from 10% to 25% to a property's overall value. A study shows that properties with Accessory Dwelling Units improved their resale value by more than 50%. For instance, in Southern California, if you were to construct an ADU for 350-400K, the resale value of the property could increase by up to roughly 600K depending on the local market. 
An ADU not only increases the property value but also helps generate passive income, but an ADU also involves many expenses and can be subject to tricky zoning regulations. The return on investment (ROI) on an ADU can vary depending on the cost of construction, rent received, and other expenses. On average, the ROI on an ADU can range from 5% to 10%, but this can vary greatly based on local market conditions and the specific circumstances of the property.
How Much does it Cost to Build an ADU in California?
The cost of building an ADU can be minuscule in comparison to the value added to the overall property with prices ranging from $300,000 to over $400,000, depending on factors such as construction methods and furnishings. In California, modestly equipped ADUs typically cost around $275,000 and offer similar amenities to single-family homes at a lower cost.
Does an ADU Add Value to Your Home?
ADUs are popular as they add value to a property but how much value they add depends on the market, and the amount is difficult to calculate. A property owner may not know whether an ADU is a good investment until they sell the property. So, if you are attempting to sell your home and are not receiving good offers, it may be worth building an ADU on your property. Adding a new affordable housing option to your lot can bring a much different buyer to the table. They may be willing to offer a higher price knowing that they will be able to offset their mortgage payment with the extra income generated by the ADU.
Grow Your ROI With Beach Front Property Management
If you are ready to start building an ADU, or need some advice about building an ADU on your property schedule a free 15-minute ADU consultation with BFPM. We can help property owners plan, design, and build ADUs to help increase their property value, generate passive income, and realize the full potential of their property.
Property owners, do you want more freedom and less stress?
Learn more about how we can help.